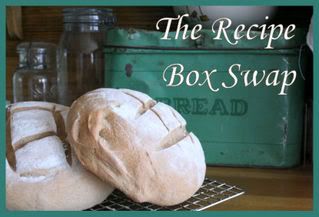 Randi at I Have to Say... is sponsoring The Recipe Box Swap. I love new recipes and I love sharing old favorites. You can share too. Just post a recipe or two and pop on over to link your blog.
Raisin Cake

This recipe has been in my family for generations. I know that my Grandma Dull (that was the last name. She definitely wasn't dull.) made it but I'm not sure if her mother did.

This recipe makes a dark, moist loaf filled with plump raisins and fills the house with the wonderful aroma of cinnamon and cloves. I hope you enjoy it.

Mix together and simmer until the raisins are plump:
2 cups seedless raisins
1 1/4 cups sugar
1 tsp cloves
1/2 cup butter or margarine
1 tsp baking soda
1/4 tsp allspice
2 1/2 cups boiling water

Set aside until cool; then add
1 tsp baking soda (yes, you add another tsp of soda)
1 tsp vanilla
2 - 2 1/2 cups flour (to make the dough quite thick.)

Pour into a greased 9X5X3 inch loaf pan. Bake at 325˚ for one hour.